(Part I here.)
I've never been on a cruise before and had heard that claustrophobia and boredom occur. I planned to offset any boredom with the two poker tables my travel agent assured me were on board.
This ship was massive, holding 2500+ people but only carrying 1500 people this trip, making it feel even more roomy. We'd booked this trip more than a year ago and since then, the price of our room had fallen twice..
cruise tip:
continually harass your travel agent into lowering the price to match the new published rate. In actuality, they say this is standard practice so you are free to book as early as you like.
After easily passing through customs (the US doesn't mind if you
leave
) we were onboard and greeted by a smiling Jamaican with a trayful of welcome aboard pina coladas. An hour or two and two bucketfuls of Coronas (each with a free shirt) later, we set sail for the Mexican Riviera. It was so exciting! The casino would be open in 2 hours!
Now out on the high seas and after prepping for potential disaster by donning our lifejackets and making our way to the designated exits, all of us moseyed down to the casino. But wait! Amidst the ching chings of the slots, the cheers at the craps table, the somber looks of the blackjack players --
where were my beloved poker tables?
The pit boss pointed me over to two tables-Caribbean Stud! Oh good lord no.
For those of you that don't know, Caribbean Stud deals 5 cards to each player and 5 cards to the dealer. The ante is placed before the deal, and the "bet" (two times your ante) is placed after you look at your cards. This is the silly part: if the dealer doesn't have an AK or higher, he ignores your cards and your glare, and pays you your ante. If he does have an AK or higher (the minimum to "qualify"), you have to beat him with your 5 cards to get paid your ante plus your bet. You get paid more than 1x your bet if you have three of a kind or better. The big bonuses in this game are the $1 bonus money you put up, in case you get a flush or better, paying (at this table) $25 - $20k.
Of course, if you did have a royal flush, the dealer probably wouldn't qualify and you'd only get your measly $5 ante paid. This is a total house game and a waste of hard-earned money. I played, yes.. won a little. I played craps.. won a little. Their craps there sucked, 1x odds.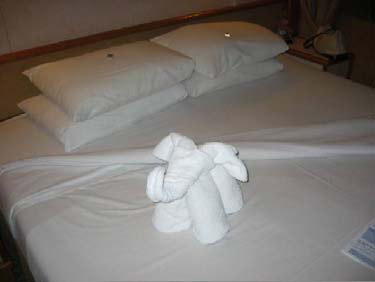 After a rousing good time at the casino, it
closed
at 2am so we had to leave. When we got back to our room, we had a little surprise left for us by our stateroom attendant -- an elephant made out of towels! And we had some chocolate mints on the pillow. Our attendant was so fabulous, I loved her. I wasn't used to such great service (turning down the bed, closing the curtains, re-organizing the medicine cabinet, cleaning our dirty souvenir glasses!).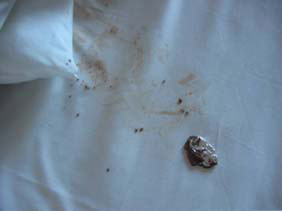 This is embarrassing to admit, but one night I must've had too many drink specials and actually slept in the chocolate mint. I mushed it around and smeared it all over the nice clean sheets. It was all over my back. At least I didn't really shit in my sleep, but Doug mocked me as if I did and insisted on taking a picture.
When we left in the morning with the chocolate stained sheets, we fortunately saw our stateroom attendant and were able to explain it lest her imagination run wild. For the next nights, we removed the chocolate as soon as we walked in the room.
First port stop, Cabo San Lucas. We docked and headed immediately over to the Cabo Wabo Cantina, the original. Along the way, there were two official looking military/security guards hanging out by the dock. Luckily, they were armed with massive M-16 automatic machine guns so we felt very safe we were being protected (from the locals selling us hair beads and kids peddling Chiclets). They posed for pictures with us.
We stopped at the first place with a bathroom, a bar/restaurant that touted,
"You catch it, we'll gut it and cook it."
Handy to know. Walking through town for a little while, we passed the smallest bar in the world. How did we know? There was a sign, of course. It was little, with three stools and basically wallpapered with $1 american bills.
And then, looming ahead, was the Cabo Wabo Cantina. I'd heard that Sammy didn't know the metric system, so he misunderstood just how big the place would be when the local contractors said what size it would be. It was much, much larger than the World's Smallest Bar.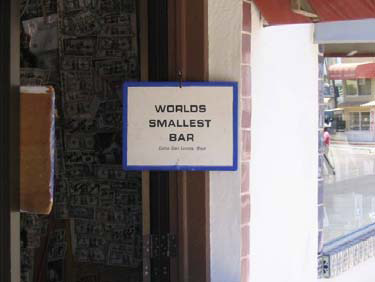 To be continued..