(Part I here.)
(Part II here.)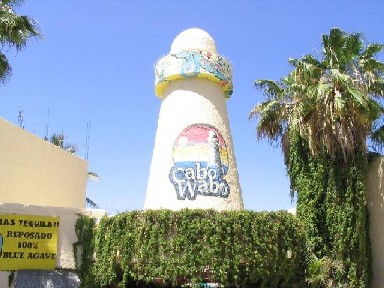 Here we are, still in Cabo (in my story, maybe in my mind). Brutally hot, there's nothing like drinking a whole buncha tequila to cool you off. This place is huge, so much more impressive than the Lake Tahoe one. The drinks aren't super cheap but they're potent and colorful to boot.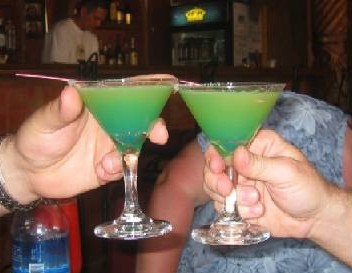 With only a few hours to peruse the town and the wares being hawked, it was a short trip there. You need a much longer stay there to soak up the culture, the atmosphere, the dust. I'll be back.
Speaking of Sammy Hagar's place, we're off to see him at Mandalay Bay in Las Vegas at the beginning of August! I think I mentioned before I'm neither a Van Halen nor a Hagar fan, I'm dragged around to these venues purely for the sport of it. I didn't complain too much about this one because it's at my favorite poker hall, Mandalay! And Doug knows someone who knows someone that works for E! and may be able to get us backstage – but that wouldn't do much for me,
"Oh hi Sammy, nice to meet you. Your concert was so, uh... loud. How's your, er, music going? Great."
Doug told me to promise not to leave early and hit the poker tables, as I did when we saw Sammy Hagar in Lake Tahoe. There are only so many decibels I can take. Burned my eardrums out one-hit wonders of the 80s. I actually heard "Jesse's Girl" on the radio yesterday (probably on the "classic rock station of your long gone high school youth") and cheered. I'm glad I was alone.
Been hitting and losing the B&M Hawaiian Gardens lately. In the last five times, I've lost five times. How's that for a streak? I feel like grubby. All five times, a total of a hundred bucks lost, ah well, could be worse. HI-G has a new game, a 27 player SnG for $50+8. They start at 10am or 9pm. Who comes up these hours sheesh. I was there last Wed when they announced they still had three more seats left, but I'd already been playing $4/8 for three hours with an internet porn site owner at my table. Wasn't ready for more action than that. "Frank" was trying to convince me to play mini-tourney because he was, so I really decided against playing. I sat and listened to his salty sultry stories about borderline pedophilia, proper doses of Viagra and visiting nudist colonies. While he was rapt with talking about himself I took a few major pots off him. Oh that night I did turn $80 into $360.. I guess I have won recently.
Benefits of playing female: the other night I had 9To in the small blind. The flop was T-2-2 and I bet out, was called. Turn's a 2 and I bet and was raised by a sigher, I called. River's a low card and I check, a guy bets and I ask for time before calling. I look at the raiser and ask him,
"Are you just being Hollywood with that sigh on the turn, or are we chopping it?"
And he just flips up his cards, an 8-2o for a four of a kind. I fold, but he could've taken eight more bucks from me because I had to call. Ah womanly charm? Or sick of waiting for me to figure out what I was doing.