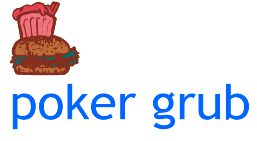 Read grubby at PokerWorks blog #2
Email grubby or grubette
(unless you specify otherwise, emails may make it into future grub posts)

---
Look for grubette at...
I have registered to play in the PokerStars World Blogger Championship of Online Poker! The WBCOOP is a free online Poker tournament open to all Bloggers, so register on WBCOOP to play.
Registration code: 191997
---
---
Visit Our Supporters:
---
Posts on This Page
Writings from Truckin'
Links
Poker Blogs
Monday, May 30, 2005
Bad Beat in the Dark
This weekend's online poker tournaments were all uneventful. Most were WSOP qualifiers, and the highest I placed was 17th, still a ways from the top 4 who received WSOP packages. But oh so close.
I've also been playing on
PokerRewards
, which offers a $25+5 tournament every Sunday that guarantees a $13,500 WSOP package. Only 142 people played yesterday, so the overlay is pretty nice. If you go to their site, they have a drawing for a free package as well. If I can't get in the normal way, by gum I'm gonna win a drawing!
I'm still determined to get a seat into the main event, risking the rest of my online bankroll. And I'm almost there.
Played the
Party
200K guaranteed on Saturday. So many people play Party's tournaments that they never have to pay to make up the overlay. In a bold move, they're changing up their 250K guaranteed to 350K guaranteed... and keeping entry fees and qualifiers the same cost. This is a great bargain.
I think they may be competing against
PokerStars
' 350K guaranteed.
Paradise
tried counter-poker-programming against Party's $1M guaranteed with a $1.5M guaranteed... and Paradise ended up having to add over $210K to their pool to make up for the lack of players. They didn't even take any fees for that tournament. Don't feel bad for Paradise, though. Their blackjack and sportsbook more than make up for any overlay they have to guarantee.
Is it just me or does it seem the number of players at Party has plateaued? There are certainly many more players out there; a quick look at Prima shows
10,000
players sign up to their freerolls. Incredible.
Midway into the 200K, a friend logged on just in time to give some sweat, only to see me bounced when I raised then pushed with KK. Who knew the button would have AA?
That beat I don't mind at all. The better hand won, it was just unlucky to get a good hand at the same time. Though I have to think, when will I pull a 2-outer to crack AA to balance out the times it's happened to me?
What pisses me off to no end are the hands where you've made the correct read, you have the better hand, and yet the guy calls anyway. And catches.
How's this for a beat: in a 50+5, I raise preflop 3.5x the blinds with 10-10. Flop is 10-7-7 (rainbow). Guy with 2x more chips than I do bets into me, I go all-in, he calls with KJ.
Turn is K. River is K.
Another hand in a 100+9, blinds are 200/400 and I'm BB with a free ride of 24o. Flop is 3-5-6 (rainbow). I check-raise the flop by about 3x, not yet going all-in. I wanted it to look like I wanted a call, and in turn I wanted my opponent to think that and to think it weakness and to go all-in. We're even in chip size.
He raises all-in. I call. He has 75o. Not even
top
pair.
Turn is 4. River is 4.
This is why
eventually
things will turn around. People playing this way have
got
to lose one day. Right? Right?
§
Okay, enough bad beat talkin'. I know how boring they are to read, especially when you're not involved in the hand. I list 'em more to vent and to show that online poker is still as beatable as ever... if you can just get past the beats (and you're not in a tournament).
I'm leaving tonight to check in to The Orleans for a few days. I'm holing (that word just does not look right) myself up at their hotel with no Internet (the cause of my procrastination) to enjoy free air conditioning and brainstorm ways to kill people.
Literally. I'm at work on a horror script and am attempting to come up with a different take on the Japanese (and Korean) horror remakes that are currently in vogue (which I find much less interesting and more nonsensical --
The Grudge
, bleah).
I'd
love
to do something that harkens back to the unapologizing splatterfest of
Friday the 13th
and
Halloween
and
Nightmare on Elm Street
and
The Hills Have Eyes
. And who can forget
I Spit on Your Grave
? All classics that I grew up with. But our more and more puritanical society has gotten away from that. If
Basic Instinct
were to be released today, I have no doubt it'd be given an NC-17 rating.
I also want to do the piece on stage, an expansion of the play I did last year. If not onstage, then at least be adaptable so it could be in both mediums. That'll be the trickiest part. There just aren't any horror plays going around.
Woman in the Dark,
Wait Until Dark,
Clive Barker, any others? Aside from Barker, those are really more suspense pieces, too (which also aren't done too often in theater). One thing's for sure -- the title should have a word that rhymes with "ark."
An aside: I did a search on "pokergrub" and "horror" looking for
this post about the play
and this photo from the play: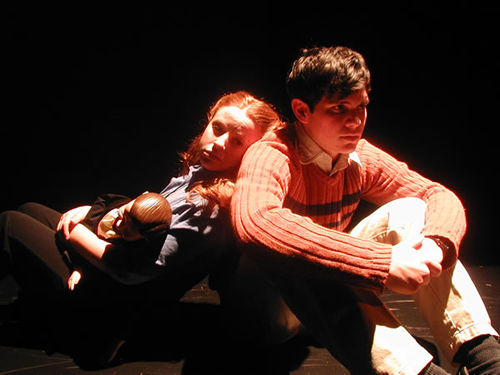 But instead I found:
a blog called
Drop the Hammer
The Hammer listed on
factbites.com
I'd never heard of factbites before, so I plugged in "grub" and found Poker Grub along with these quotes. Do users of factbites pull out their own quotes or does the robot spider do it on its own? Nevertheless, I laughed at 'em when taken out of context:
A hunnert more SnGs and this stat had better not dip lower, or Poker Grub will become Slots Grub and I'll be all the more happier living the rivered-free life of slots.

Bad luck in grub manor is nothing new, but Aunty Cynthia carries a dark shroud with her that follows heavier than Punxsutawney Phil on a cloudy day.

Poker Grub does not yet have Pontiac as a sponsor to make us look like we're fulfilling wishes when in actuality we've sold our Steadman soul and are providing a one-hour infomercial), what did the aggressive possible oddball Button have?

Sigh, the good ol' days when I didn't have to depend on poker to pay for constant air conditioning in 107-degree weather.
Okay, back in a few days. I may pop downstairs for the 7 p.m. poker tournament tonight and tomorrow, or I may play a live game. But definitely -- no blackjack or slots.
—

—
Friday, May 27, 2005
Goin' for broke
To celebrate their two-year reign on the WSOP,
PokerStars
offers a reload bonus of 20 percent, up to $120 (deposit $600, get $120) with 5x FPP to clear and good through June 2. No bonus code necessary, and they stack.
§
On Monday, the Wheel of Fortune progressive at Sunset Station hit for $2 million. It wasn't me.
The Stations have a progressive jumbo jackpot (the software company is the same that does Wynn's fun bingo bonus that randomly appears on all their slots) linked through all their properties, which must hit when it reaches $150K. A bit selfish for one person to hog all that money, so now if you're playing with your slot card inserted when the progressive hits, everyone receives $50.
That wasn't me either.
Me was the disheveled unshowered misfit cursing out a blackjack slot machine while slamming down free Red Bulls.
Earlier this week I was living at Sunset for a slot tournament (they smartly arrange rounds with enough time in between that they get you to roam around the casino, and what else is there to do in an air-conditioned casino than trot by those brand new sparkling slot machines calling out the name grubby?). With temperatures in the 105 degree range (uncommonly hot for May, so they say, but then that's what they said about the freezing cold and rain during the winter), it didn't make sense to return home in a hot car and then head back, so I stayed.
I also figure the less driving I do the better, because I've been without license plates for three weeks. I'd removed my old ones for the DMV but found my smog test had expired after 90 days (I thought I could sneak by with this technicality, maybe I should've tried the $20 trick), so I now need to get another one done before I can get Nevada plates. Laziness ensued, and I never bothered to reattach the old ones. I seldom see any police presence, so I'm not too worried about getting the test done again anytime soon, at least not while it's hella hot.
Got off to a great start in the slot tourney, with my first and second round scores adding to above average. If I could get the same score on Tuesday, I'd cash for sure.
Never get high hopes in gambling, it only sets you up for a fall.
To show you how low my third-round score was, Lola the emcee called out for people to raise their hands who had scores above 5000, then 6000, then 7000. Someone raised his hand at over 8000.
My third-round score barely scratched 4000.
This means I might possibly have cashed for the consolation prize of $25, but even that didn't look likely.
So I ate the buffet (three trips -- the corn on the cob was particularly good), then elected to skip the 6 p.m. reception. For me to miss out on free food and drink, you know things haven't been going well.
Headed home in time to play
Pauly's
freeroll.
And since then, I've played over 60 online tournaments. And despite not cashing, I was the luckiest in Pauly's. At least three times I would go all-in or call an all-in and catch cards. Why can't this happen in other tourneys?
I've been doing horribly in my mainstay ring and SnG games, a combination of bad beats, the standard AA vs. KK, and bad calls when I know better.
I'm mentally worn out enough that I've decided to take some time off from all online gambling.
Rather than cash out the pittance I have left and use it to pay rent, my plan is to run out the rest of my online funds on
Party
tournaments.
'Cause, see, the WSOP is right around the corner and I want in.
I see the competition and I see how lucky they get, and if I can just stay away from hands against them and get lucky (or rather, not get unlucky) myself, I believe I can snag one of those WSOP seats or cash in a big tourney.
I also see how poorly people play at the final table, particularly when four or five people get the same prize. Everyone reverts to tight play, when the chip leaders should be muscling out the shortstacks and force them to a decision before they get lucky.
What I do is start with the subqualifiers and qualifiers, and if I can't get in that way, I buy in directly.
The subs are a pretty good structure, and if I fancy myself a good SnG player
at all,
I should easily win a seat into the qualifier (I seem to win about a third of the subs that I enter). Particularly when play is worse in these subqualifiers than cash SnGs (besides which, it's been awhile since I've cashed in an SnG).
The $1M qualifiers don't interest me because in both sub and qualifier, there's only one winner.
Better are the WSOP $9+1 subqualifiers where you have to win first or second to get a seat into the $36+3 qualifier. Third place gets your buy-in refunded.
Then in the $36+3, you have to win (second place gets a refund) to get into the $300+28 tourney where 1 out of 45 people get a $13,500 WSOP package (the seat + $1500 for flight/expenses + 10 days at the MGM Grand... non-negotiable, incidentally).
I'm also playing for July's PPM V semi (which has increased to $500+35 for some reason), but the WSOP, Daily Super, $200K, and $250K tourneys are my main focus. I also play the cheaper $20 and $30 and $50 tourneys because so many people play them (the new rebuy & add-on tourney hasn't picked up as many players as I would've thought, but I play that too).
The past few days I've played the WSOP $300+28 qualifier and the Super Weekday $150+12 NL games.
The WSOP qualifier has some stiff competition that I need to adjust to. Twice I called raises or reraised with AK and AQ, the flop gave me top pair/top kicker, and the raiser had me the whole way with KK or AA.
On Tuesday, 189 entered (four get the package) and I busted at a dismal 125th. No bad beat, just beaten by the better hand.
On Wednesday, 183 entered (again, four to the package) and I did better at 47th but still far from placing. My 10-10 didn't hold up to KK.
By contrast, the Daily Super games have the same tough players, but it's only evident down to the final few dozen tables.
In the Super Thursday, the chip leader of my table and tourney kept raising to the right of me T3200 and I look to see 10-10. Right on schedule, he raises his standard T3200.
With blinds T500/T1000, I was dead average T13,500 the whole time and could have played it safe by folding into one more level (about $110 more), but if I'm going to build chips, this is the place. I went for it.
All-in by me.
He shows KK and it miraculously holds up, knocking me out in 46th place out of 732. This 10-10 vs. KK hand was the same scenario as the WSOP satellite, both even spiking a King on the board just to give me no hope of catching a 10. Perhaps I should learn to fold 10-10 late in the game.
But at least it's my first cash in a long, long string of noncashes. And gives ammunition for more tourneys.
I watched another player who had fewer chips than I did, and he managed to fold two levels up (about $215 more), so that could've been me.
But I'm here to win, debbiedimmit. And one of these days it'll happen.
Tonight is the Friday Special $200+15, then tomorrow is the $200K guarantee $200+15. Maybe one or two more WSOP satellites. And the rest of the Memorial Day weekend on smaller tourneys.
And then I reckon I'll be done with online for quite some time.
—

—
Wednesday, May 25, 2005
We get it, Tom (don't sue)
Rock Hudson
Tom Cruise is now criticizing Brooke Shields for her
"misguided"
use of Paxil vs. vitamins, saying
"where has her career gone?"
Never mind that Shields has a thriving new career in musical theater (she was terrific when I saw her on Broadway in December, and she's currently getting raves in
Chicago
in London).
Never mind that much like witnessing or hawking
Carl's Jr.
, Scientology "suggests" Cruise spread the word about their Narconon form of
sexual
drug rehabilitation... in exchange for free services (Scientology can be expensive).
Never mind that Cruise is a freak.
Isn't him being bizarrely, frantically
"in love"
with Katie Holmes enough orchestrated PR? (Holmes' publicist is Leslie Sloane Zelnick, who also represents Britney Spears, J-Lo, and Lindsay Lohan... who don't get
nearly
enough publicity these days.)
The tabloids were slow to pick up the rumor the first time around, so his people decide a different approach by declaring his forced, manic love, culminating on the "Oprah" show, the best PR machine for any celebrity. And we have to believe him, because according to Cruise,
"I'm very straight about how I feel about things."
He's obviously had some subliminal training, too.
Before she came out, Rosie O'Donnell would swoon over any mention of Tom Cruise until he finally came on her show. This is now how he's (over)reacting to Katie Holmes.
Okay, he's in love for the first time (with a girl) that he's bouncing all over the "Oprah" set. Penelope Cruz refuses to talk about their relationship (similar to Debbie Rowe and Michael Jackson?). Nicole Kidman doesn't discuss what led to separating their 10-year marriage of convenience contract. And any tabloids that try printing the truth gets slapped a libel lawsuit.
These A-list celebrities are so keen and terrified and nervous to retain their status that even for a guaranteed $150+ million blockbuster like
War of the Worlds
, Cruise feels the need to overtake the gossip spotlight from Brad Pitt/Angelina Jolie. (He has need to be worried: his past few films have barely broken the $100 million mark, and his production company has a stake in the Steven Spielberg flick as well.)
And here's poor Katie along for the ride, caught in the headlights with her
lip sores
(cheap shot; I suspect those photos are from an upcoming movie), hoping this blitz will help her sagging career post-Dawson, where her films are closer to $100 than $100 million.
Why not be really radical and link Tom Cruise with Dakota Fanning? That would be more believable than him and Katie Holmes. And Fanning is a much better actor than both of them.
No one
believes this story, yet everyone is reporting it... even Poker Grub.
But just in case you think this post has no redeeming poker content, best of luck to Mimi Rogers at WSOP.
I'm so sickened by this display of obvious publicity stunts that I need to lie down and take some vitamins.
—

—
Tuesday, May 24, 2005
Vitriolic bad beats
Warning:
I'm going to post a bad beat.
In exchange for indulging, here's some further vitriol aimed at sweepstakes that you can enter too.
Both are courtesy of the June issue of
Maxim
, the one with the achingly gorgeous Vanessa Marcil on the cover.
The first is a
drawing for a Vegas trip
. It's a doozy, awarding you and nine friends (airfare too, though note that they say "limited bar tab"). Alas, it just asks for your name and address. A sweepstakes of skill, this ain't.
The second is a
drawing for a Pontiac Solstice
. Come up with a good pickup line and win the car, delivered to your doorstep by Rachel Perry.
Rachel Perry doesn't do anything for me other than annoy me with that grating voice and stick body, but I could use the car. If it were cover girl Vanessa Marcil with the car, you can bet I'd really be trying in earnest.
The setup is similar to the
beer.com
Virtual Bartender girls only not as interesting (the site nor Rachel). Like I really need to continually be rejected over the Internet. At least Tammy, Trisha, and Lisa will do what I say.
The trick is to word your pickup line in a way to get past the bouncer. She'll still reject you, but you'll be able to submit the line with your address.
The pickup line that I wanted to submit was:
"Do you get a handicapped sticker for having one ear?"
But that and variations of it kept bringing the bouncer to try again.
"Can I buy you a binge?"
went through, but didn't make much sense ("Can I buy you a purge" is more literal, but doesn't flow as comedically). Plus I wanted to bring the car into it.
Finally, success with:
"Who has more miles, you or the car?"
Yeah yeah, don't quit my day job. Whoops, too late.
§
Okay, now the bad beat. Actually, three.
All weekend I went after
Party
's bad beat jackpot, which increased from $200K to $360K before I stopped playing. It hit sometime after that, early yesterday.
The way I figure it, I've been getting so many bad beats lately that I'm due for a really big beat, and I may as well give a shot on the jackpot tables (though I usually don't play them until it's at least $200K).
Before those tables, I was playing Party's 400NL 2/4 game. Many people buy-in for less than $400 and then take shots, particularly with draws.
I try to have a table open for awhile to see if I can pick up any betting patterns or people chatting about other players. One guy was pushing around his stack by raising all-in or re-raising all-in. No one was calling, and he'd type in chat,
"Respect me!"
He didn't do it all the time, but just enough to make you wonder what he had.
I sat down, waited patiently and folded all but premium hands, and then I get KK.
I come in for $20 and as expected he goes over the top. I have about $500 and he's a bit over $400.
I call.
He has A9o.
I chant no Ace, no Ace, no Ace. But two 9s come, and my money is pushed to his side of the table. He says,
"You should've respected me, you were drawing dead."
I wanted to say something back, oh did I want to say something back, but I held my tongue for future sweepstakes entries.
I cap up back to $400 and steel myself to playing good hands and waiting for that big hand. I see other people take him down. And then it happens -- he's busted and leaves. And so do my chips, out of his hands and into someone else's.
My other table I see the flop for free with 63o and flop 663. I'm big blind and bet $25. A slowplay would've been good here, but slowplays have a way of kicking me, so I rarely do it unless against the most aggressive of players. Besides, many people will call one bet with overcards. Two people call. Turn is 2, I bet $50, one drops, another calls. River is 7, I bet $150 and he raises all-in. $250 more to call, which I do instantly. He didn't have a 6. He had two 7s.
Didn't see that one coming, and really I don't begrudge him for staying in so long against no overcards and no preflop raise. Perhaps I really should've bet bigger, but is it worth scooping a pot of under $10 with a flopped boat? Nope. This is the reason I rarely will raise all-in preflop with pocket Aces (reraising's a different story). You want at least
some
money in the pot.
And speaking of Aces...
My bankroll shrinking, I'm now at the 200NL game, which I feel more comfortable in. The 100NL game's blinds are too small, but 200NL is just right with the same amount of softness.
Lost several hands, then came this one:
Party Poker
No-Limit Hold'em, $2 BB (6 max, 5 handed)
converter
Button ($546.09)
grubby ($67)
BB ($209.3)
UTG ($132.9)
MP ($182.35)
Preflop:
grubby is SB with A

A

.
UTG calls $2,
1 fold
, Button raises to $6, grubby calls $5,
1 fold
, UTG calls $4.
Flop:
($20) Q

8

K

(3 players)
grubby bets $2, UTG calls $2, Button raises to $10, grubby raises to $61 (All-In), UTG folds, Button calls $51.
Turn:
($144) 7

(2 players, 1 all-in)
River:
($144) 5

(2 players, 1 all-in)
Final Pot:
$144
grubby has A

A

(one pair, aces).
Button has A

A

(flush, ace high).
Outcome: Button wins $144.
As soon as that final

fell, I knew I was dead. Thankfully, he didn't have something like pocket 2s.
I wish I could say this was the first time I've lost AA to AA.
Instead I'll say that at least I didn't have more money.
—

—
Sunday, May 22, 2005
Answers to quiz (always pick c)
Every month or so when Stephen King's taking a break from playing magazine reporter, there's a
Pop Culture Quiz
on the back page of
Entertainment Weekly
that focuses on some part of entertainment history. This time it's the year 1995.
To prevent steaming at the poker tables, I always look forward to answering these 10 questions with the most vile, offensive, and incorrect answers I can think of. For some reason I never win the $150 worth of DVDs (1:6000 odds), but I amuse myself.
This month's set of answers was rather tame, but thought you might be interested:
1. In addition to webbed toes, what other postapocalyptic physical adaptation did Kevin Costner's character possess in Waterworld?hair plugs2. What's the name of the streetwalker who Hugh Grant had an infamous late-night tryst with in L.A.?eddie murphy3. Which of these leading men did NOT star in To Wong Foo, Thanks for Everything, Julie Newmar?(multiple choice, no place to write-in, so I picked c) Wesley Snipes)4. Demi Moore starred in a 1995 movie based on what classic work of American literature?lolita5. Name one of the two deadly sins committed during the climactic final scene in Seven.karaoke6. Which Hootie & the Blowfish album all but ruled the charts in 1995?smells like teen spirit7. According to Chris Farley in Tommy Boy, ''Brothers don't shake hands,'' but do what?"brothers snort coke"8. Six years before he romanced Bridget Jones, Colin Firth played a very similar role in what miniseries?salem's lot9. What two words best recall David Letterman's disappointing stint as an Oscar show host?quintuple bypass10. In what small space did Sandra Bullock's character work in While You Were Sleeping?her acting talent
—

—
Friday, May 20, 2005
Cannoli karaoke
Kudos to
PokerRoom
for a new feature with all-ins. Now when you go all-in, up pops hand percentages of who's favored to win, just like they do on the teevee. As further incentive to check 'em out, until May 25 they're offering a 15 percent reload (up to $150) using the code
DUDE
. (I worked it off in an hour of blackjack... and then ludicrously lost it all, but you have better judgment than I do, right?)
§
My days playing online are numbered. And lest I bore you with bad beat details and my dwindling online bankroll that's too depressing to mention, that's all I'll say about that.
Tuesday began brightly with an early walk with Kathy, whom I hadn't seen in three weeks. She'd been visiting NY and DC while I was in LA, and we're easing back into our regular three-mile walk in Henderson. We talk the whole way, so the time passes quickly and it seems much less than three miles, though Kathy insists it is. As the days become hotter, we move up the time to meet. Pretty soon we'll be meeting at dawn. Hardly seemed to be a spring season at all, going from cold and rainy to hot and windy. Evenings, however, are perfect weather -- fortunate for me since I'm usually out then and sleeping through noon.
After the walk, I played online for a few hours and made my nut for the day (all of which I would lose the following day, but this post is not about that). I'm now playing for my daily goal and then quitting, or playing my set hours/hands and then quitting, whichever comes first. Despite my belief that a win limit is ineffective in poker, it seems to work for me, and if it's a choice between being up for the day and possibly bleeding that win into a loss, I'm going for the hit-and-run. If anything, it helps with the mental health. Too many losses in a row eventually takes its toll, and it's nice to lock in a win now and then.
The plan was still to win $50 in live poker to pay for the luxury purchase of the Sony earbuds.
Took a nap, then met up with Kathy and her friends Teline and Sharmin to see the Second City show at Flamingo. They've taken improv classes with one of the cast members, who's leaving soon to New York to be closer to her boyfriend who writes for "Saturday Night Live." I think she should be
on
"SNL," she's that good.
Some of the skits took easy shots (Michael Jackson, Catholic church, Vegas) and had predictable endings, but overall it was excellent. Very funny and interactive, and full of energy. It was clear they had a fun time performing, and you could tell the troupe were also good actors.
The show was 90 minutes without intermission, a common time for Vegas productions. When it arrives at The Venetian later this year, Andrew Lloyd Webber will have chopped down his
Phantom of the Opera
to 90 minutes, though your $100+ ticket will still be well spent seeing the special effect of the chandelier fall down and go boom. Yep, these shows get you into the casinos, and the casinos want you out of the theater as fast as possible and onto the gambling floor.
We wait outside to say hi to the cast, but we miss them when they ditch us and go out a back door. Meanwhile, Teline tells us an amusing story about how she wore a green cape to school her entire freshman year of college, and we riff on that awhile. She also was on the fencing team, and would wear the cape along with the foil.
I had just met these girls, and it was nice to be able to goof around with them as if I'd known them longer than an hour and a half.
The four of us then roamed around for a drink or snack, and I ditched my plans of checking out Flamingo's poker room. I have a rule that in the company of women, especially attractive women, gambling takes a backseat. 'Sides, I had a nap before the show; I could head to the poker room after they left.
We took to the Strip, hoping for inspiration. I asked if anyone had seen Fat Elvis (officially Big Elvis if you want to be politically correct) at Barbary Coast. I've still yet to see him but hope to before he dies of a heart attack, and I will drag anyone I can to the show. We get excited about the prospect of the 500-pound Elvis impersonator (who I hear is actually very good), but we're rejected by a sign at the front saying the last show was at 6 p.m. SIX! What kind of all-night 24-hour entertainment capital of the world is this?
The flow of the crowd lead us across the street to Caesars Palace. I'm usually up for any foo-foo lounge (Caesars has a nice one called Seahouse), but the others were looking for something cheap and lowkey.
We headed to the food court, didn't see anything, and walked out. Upon entering, they give cards that you use to purchase anything at any of the vendors. Then when checking out, you hand over your card and settle up. We turned in our cards saying we purchased nothing, and they accepted them without swiping through the register. This is good to know if I ever find myself hungry and penniless, though I suspect they watched us go in and out without stopping at any of the vendors.
Kathy mentioned excellent pastries at Ferrara's in the Forum Shops, and off we went. We arrived at 10:10 p.m. to find Ferrara's closed.
But not too closed that I could spot a woman walking around and closing out the cash register. She ignored us, and the girls got in a group to figure out where to go next.
I weighed my options. We could either head somewhere else without pastries, or...
My charming license was on the line in front of the girls, but I decided to give it a whirl.
I'm a gambler, after all.
Getting the attention of the cashier, I give my best puppy dog face through the window and pantomime-ask what time they closed. She holds up ten fingers, and I cross my hands to my chest like I was heartbroken.
I'm able to get her to come over, and through the glass door I say conspiratorally that my friends are leaving tonight and that they had heard Ferrara's had the best pastry in Caesars, that we had come all that way, and could we perhaps sample something. (All of which was true, by the way, just exaggerated.)
She pauses and then holds up a "one moment" finger, as she goes back to talk with her manager.
Sharmin comes over and wonders what she's doing. I say out of the side of my mouth,
"If she asks, you're from Missouri."
The cashier then goes to the display case, removes a pair of tongs, and scoops four cannolis into a bag and hands it to me.
Score!
I ask her name (Nancy) and say she's wonderful and heap thanks on her.
These Vegas people are so nice. This would never have worked in DC. There, you get your change thrown at you without a word of thanks. I also wouldn't have tried this if the cashier were male.
We walk out of Caesars with Sharmin saying this was the best cannoli she's ever had.
We cross the street again and see the dueling pianos at Harrah's. It's a man/woman act who both play and sing, though not as good as New York New York's. When one sings, the other rallies the crowd by getting them to clap. The guy had a request to do Vanilla Ice's one-hit-wonder, and he knew all the words, rapping like a champ into the mic.
Next up was an outdoor band in front of Imperial Palace with a lot of drunk people dancing. They announced that they had a marriage proposal, and a guy asked his girlfriend to marry him and she said yes (big surprise). I thought they should've immediately brought out a justice of the peace to marry them before she sobered up and changed her mind.
Kathy and I ducked into Ghiradelli and shared a delicious raspberry chocolate fudge sundae while the others danced (grubby don't dance).
We stayed until a guy who must be in his 50s came on stage. Sharmin had seen him before when he used cardboard cutouts in his act. Kathy had seen the same guy in 1992 at The Continental (now Terrible's). We thought his name was Fred, but it turned out to be Cookie Jar, and his gimmick seemed to be barking (like a dog) through songs. I had fun yelling out
"FRED!"
rather than "Cookie Jar," which didn't have as good a ring to it. He made sound effect noises in his mic and amplifier, including one of a 747 jet flying overhead. Or maybe it was a 757. I screamed out,
"LAWNMOWER!"
but he didn't seem to take requests.
Next stop was laughing at the dealertainers over at Imperial Palace. We walked through their karaoke, which was "Summer Nights" from
Grease
. Now grubby don't karaoke either, but once when I had a few drinks in me I did make my way up for this particular duet and did the Olivia Newton-John part. There are photos somewhere, most of which I've bought back.
We all sang along a few of the lyrics, then walked through to the casino. Sing and walk, sing and walk.
This was my first time at Imperial Palace (I'm more a south Strip kinda grub), and it reminded me of the Atlantic City casinos. I also knew they had a relatively new poker room where players are rated at $3/hour, the highest anywhere on or off the Strip.
The dealertainers were dealing blackjack in one small section. There was Billy Idol, Cher, Mariah Carey, Chubby Checker, and Deborah Harry (who looked more like Joan Rivers to me).
We watched, laughed, and left back to Flamingo.
In front of one of the showrooms, we saw two tables with a bunch of photos displayed, presumably pictures of the attendees where they could now buy photos of themselves enjoying the show for the low low price of $20. Like an amusement park ride.
Sharmin and I sift through the photos, making silly comments about each one. I settle on a photo of a happy African-American couple in their 30s. I hold it up and say,
"Okay, we'll take this one."
The person looks confused, then her manager rushes over with a big puss on her lips.
"What are you doing?""I'd like to buy this photo,"
I say.
"Why do you want it?""I thought it'd look good above our fireplace."
I hand over $20.
"It's for sale, right?""Only for the people in it,"
she snaps back, and turns around, straightening up the photos that I'd contaminated.
I guess they didn't really want a sale.
We said goodbye to Sharmin, and the three of us headed to Mandalay Bay to meet the Second City folks at Rockstar Karaoke.
Rockstar Karaoke is at House of Blues every Monday and Tuesday at 10 p.m. If you're going to do karaoke, this is the way to do it. Free admission, two live guitars who accompany you and provide backup. You're up on stage, everyone's dancing, and it's probably the closest thing you'll get to being in a live band like Ashlee Simpson.
Got there in time to see one of the Second City people do a stunning version of Michael Jackson's "Don't Stop Till You Get Enough." Leave it to actors to bring down the karaoke house.
Kathy and I left at 2 a.m. and as we walked by the Mandalay poker room, I had the fleeting thought that I could still earn my expensive earbuds.
But I'm not going anywhere. There's always another day for that.
—

—
Tuesday, May 17, 2005
Ich Bin Ein Chili Pepper
"Tickets won are twice as sweet as tickets earned."

--Fast Grubby
As if I needed more spam, I've suddenly been bombarded by spam in German.
But I did pull out two which may be of interest...
eBay
has 10 cent auction listings for today only. Wish I didn't throw away all my junk before I moved.
Also, for those coming to Vegas in a couple weeks, registering online at
ESPN Zone
will give you a free $20 coupon, extra points on your card, and a mini-cooler. There's an ESPN Zone at the New York New York casino, but it's also good for any ESPN Zones.
§
The Vegas Centennial is in full swing (Vegas' official 100th birthday was May 15th, where they baked a 130,000 pound cake with 3 million calories, and the Red Hot Chili Peppers (and Weezer) are giving a free outdoor concert on July 2nd at the Las Vegas Convention Center.
I stood online at Ticketmaster trying to get tickets last month, but the 50,000 available went fast. Not only did they sell out, but because it was online, a third of the tickets went to Californians when the focus was on Vegas locals. Then the tickets began cropping up on eBay, which the Mayor was none too happy about. And believe you me, you don't want to get on the mayor's bad side.
Fortunately, I had a second chance: they held back 5000 tickets to be given away at Ticketmaster outlets and a couple dozen grocery stores beginning yesterday at noon.
I had just switched over to a Nevada driver's license a couple weeks ago, so I was eligible. This Nevada driver's license, by the way, is more and more becoming a free pass to things and has already paid for itself. The only reason I switched in the first place was to get into strip clubs for free (wish I had known that tidbit earlier).
I sauntered out of bed at 11:45 a.m. (not working sure beats getting up in the morning) and walked across the street to be seventh in a line of high schoolers cutting class, with about 10 people behind me.
That was it. Fewer than 20 people in line for free tickets to the Red Hot Chili Peppers. With not even a service charge. Amazing!
Everyone in line got tickets, and after there was no line, they still had tickets to give it away, give it away, give it away now. Saw a girl accosting people in the parking lot, asking shoppers to pick up extra tickets for her.
Which I would've done for her, but I already had my tickets.
§
I couldn't do without my iRiver, which I used often at work and use just as often now. Every time a new version releases (at decreasing prices), they draw me into getting the latest and greatest. Because like the light bulb, you
know
they had the technology a couple years ago to come out with 1 gig models, but chose to withhold it until enough people had first purchased the 256 meg (and then the 512 meg) players, filled 'em up, and went looking for more capacity but didn't want to pay for an iPod.
But I love 'em to death. The new one is red, has an advertised 40 hours per AA battery, and comes with a case, but this time only as part of the armband that I can't remove. Whenever I wear that thing, it looks like I have a colostomy bag dangling off my forearm or I'm shooting up whenever fiddling with the player. So now my iRiver runs naked in my shirt or pants pocket. When will they invent an MP3 player/Norplant/nicotine patch combo?
All iRivers come with Sennheiser earbuds, and the way they're built or the way I move must strain the cord to eventually tear and expose the inner wiring near wear it connects to the player. Duct tape and rubber bands are the only things holding it together, and another drop to the ground will surely cause it to snap completely.
So I'm on the hunt for new earbuds. I figure I'll get a midrange one, hoping that the same fate doesn't befall the new pair. iPod earbuds go for about $40, but I saw a Sony one that got generally good reviews (MDR-EX81LP) for $10 more, so I'm shooting for that.
Now I'm cheap when it comes to buying things for myself (witness how long it took me to get a couch -- more on that in a future post), and $50 for a pair of headphones is outrageous to me. But if I can win it...
I may see the Second City show tonight at Flamingo, and if so I'll check out their poker room (if not, I'll go somewhere else). My goal will be to win enough so I can purchase these headphones. And I'll stay there as long as it takes.
I don't have a backup plan, and I'm not even thinking about the possibility of the session bringing a loss.
'Cause this is the new positive thinking grubby, trying to reduce the negativity in my life and at the tables. I too often assume I'll lose on the outset, and I need to change that.
Which, uh, means reducing the negative expected value games, and believe me I'm trying.
—

—
Monday, May 16, 2005
My room is bugged
UltimateBet
has a 50 percent reload bonus (up to $100) through May 22nd. No bonus code necessary.
§
I've realized I'm a grumpy vocal asshole whenever playing blackjack slots and getting bad beaten. Usually I have my MP3 player and headphones on, and all sorts of cursing suitable for satellite radio escapes my lips. One elderly gentleman moved from the sanctity of his verbally grubbily contaminated video poker machine to a G-rated one a couple rows away. I looked at him and snarled with my Red Bull-stained teeth, not toning down the salty language until the blasted machine had all my money.
My language of choice is more on the "goddamn" side (I'm certain God has already condemned these confounded machines) than anything more creative, though I don't know how much longer I can control myself from not uttering the common language heard coming out of my mouth at home.
Fortunately, I don't curse at all or show reactions playing live blackjack. Whenever I get a blackjack, I'm more thinking it's about time than registering any excitement.
Same goes with live poker.
Playing in the Binion's $125 (plus $25 extra chips and $50 rebuy) 8 p.m. tournament the Friday before last, I reraised all-in with AKs. The original raiser called (putting him all-in; I covered him) with AQo. The flop gave a Q and no help for me. Rebuy! A friend was playing the same tournament at my table and said he watched me the whole time and didn't see a reaction. He wondered what I was thinking, and I said I was thinking where we'd go for dinner after the tournament (that would be Golden Gate for 99-cent shrimp cocktail if I busted, a Wynn steakhouse for angus if I won). Later, I was shortstacked with KQo and raised all-in and the BB called with AKs. When I flopped a Q, my friend again asked me what I was thinking, and I said it was odds balancing out.
If I do any acting at all, I try to appear as if I'm hoping for a call, but that's an easy performance because most times I want that call.
That tourney, by the way, only attracted 55 people because of the more expensive buy-in (normally $60), which surprised me and the two friends I took who'd never played a live casino tournament. If I'd known before (like if I'd known that LA Poker Classic tourney would be $300 with multiple double rebuys and double add-on), I wouldn't have played. But we were there already, so we figured we may as well. We all lasted to the third table, and I had a last-longer bet going with one, saying whoever outlasted the other would refund the buy-in. But if the person who lasted longer made it to the top 3, he would take care of the other's buy-in.
It was down to two tables and I was shortstacked by about 4x the blinds and antes. After some miraculous uncalled bluffs, I saw AQs and pushed. Chip leader counts down and calls with 99. A coin-flip hand, I'll take it.
Flop is rags. Turn is a 9 (ugh). River spites me with an Ace.
I shake the guy's hand, and I'm out in 16th, not disappointed in any move I made throughout the four hours of play. The Binion's tournament is pretty soft with lots of checking going on. Many times a position bet would buy the pot. If not for the heavy juice (compared with online) and few players, I would play this more often.
I was more upset that I now owed my friend $150. He lasts to the final table (top 7 pay), and I tell him not to safe play for seventh and instead go for the win, which is always my philosophy. He's shortstacked and is folding most hands, then sees AQo. The same guy who busted me raises big preflop, and my friend decides to call. I would've done the same. The guy shows JJ, and my friend busts in 10th place.
We all felt we played the best we could, so that was at least some solace. We drowned our bad beat stories over that most delicious 99-cent shrimp at Golden Gate, and the angus didn't even cross my mind.
§
My room 2053 at Luxor, the room that overlooked the pool, the room that was so conveniently located right around the corner from the garage that I didn't need to use the elevator, had bugs.
Big, black "Fear Factor"-like beetles that minded their own business but gave a sickening cookie crunch when I stepped on one that I didn't know was hiding under a towel. Not the hotel towels you want to take home to Mother.
The first one was in the sink, and I called the front desk to come fumigate or whatever they do to exterminate. Half an hour later, a guy arrives with a vacuum cleaner and sucks up the bug and says all done.
Through my three nights there, I found six more bugs, which I captured using overturned trashcans, ice bucket, and glasses. I wrote a note to housekeeping, lest they be surprised at what gift I'd left:
"Warning: bugs underneath."
The squashed bug affected my dreams, dreaming of staying in the countryside with a dormitory of girls that had a lot of dogs, and discovering one of the dogs had been run over my a car. In another dream, I was driving through that countryside when a van in front of me stops, backs up, and people in masks get out. I'm unable to back up because cars are behind me, and the people from the van pull me out of my car and set my hair on fire.
Pretty traumatic, and I blame the bugs. I wrote about the bugs in the guest survey form, maybe they'll give me a bugless suite upgrade next time.
I didn't do well in the slot tourney, faring just over 60,000 total points over three rounds. To cash at all in the tournament, you need at least 68,000; this tournament, 69,000 had to be reached to get at least $1000. Top prize of $22,500 went to a gal who had over 72,000 points.
The best part about these things when you don't win is talking with people at the banquet (as well as the banquet food -- a gourmet sit-down dinner that's different every time). Met some friendly folks from Washington state and Chicago, who attend these as often as I do. I tend to sit at one of the roundtables in the back, and like high school, I get my new slot friends to start catcalling (I pulled a reconnaissance of absconding with another table's centerpiece of a boot with flowers in it for a woman at my table who does palm readings at Excalibur). This time, they didn't need any prodding because they were already ready to go. We suspect it's MGM's doing, but several people were no longer employed at the tournament, including Jason the emcee who was desperately missed (the scuttlebut is that he was laid off and moved back east). They introduced five new corporate slot people, and they were all young'uns who I think were brought over from MGM.
Sure, the dinner and free drinks were still great, the Cirque du Soleil acts (a girl doing acrobatics and a guy from Cuba balancing on a ladder who stood so tall on one hand, he kicked off a piece of the chandelier) were good, and the video of each of us playing the tourney was appropriately embarrassing and fun, but after that it was all business. Just a reading of the winners, and we're kicked out to make some money for Luxor. Jason always awarded at least $2000 extra like Monty Hall. He'd hand out $50 here, $100 there for answers to trivia questions (this time the theme was the "Gunsmoke" TV show, but aside from the ballroom dressed up to look like the Old West, there was no other reference), for complimenting him on his tie, for being from Hawaii. Last time he had a little game involving giant fuzzy dice that volunteers could roll for money or embarrassing acts he made them do in front of everyone (dance, sing like Elvis, etc.). Perhaps they simply kept that extra cash, watching that bottom line. Little things like that really make a fun time for me, and it's what made Luxor stand out from other tournaments around town. Once I played in Luxor's, I knew it was the best, and that's what I frequently hear from other fellow slot addicts who get invited to many more tournaments than I do. But more corporate changes like this, and I'll be looking elsewhere.
In between first and second slot rounds, I zipped to Sunset Station and played in a blackjack tournament. I played more strategy this time, which was all moot when one person never lost a single hand and was the clear chip leader by the end of our 25 hands (only one person moved to the next round). I made more aggressive moves than I normally would have, because if I made the second round I'd miss the next round of the slot tourney.
After the slot tourney was over, I headed back to Sunset to play in their craps tournament. This was a complete bust, as I played like I'd normally play craps (which is covering all the numbers and taking down my bets after three numbers) and immediately lost two-thirds of my stack on the first two shooters. I was the third person to bust from the table, and the dice didn't even get to me.
The strategy here would probably be to just bet the required pass line bet of T100 and nothing else until, say, half the people bust out. Then keep an eye on what the others are doing and either bet more or bet opposite. But what do I know. I do know that many of these tournament players in both blackjack and craps don't know the game, so anyone with good tournament strategy can outlast, outwit, and outplay at least half the field.
§
To get away from the bugs, I escaped Luxor on Saturday night and walked the Strip. Hadn't done that since I was a tourist, and the porn slappers are overwhelming not only in the number of people that they've hired to hand out the porn postcards, but in those cards strewn all over the ground, in trashcans, on benches, and folded through chainlink fences.
And who are we kidding: it does
not
cost $44 to get the airbrushed woman to come to your hotel for a "date." $44 may get someone who resembles her to answer the phone, but anything else will cost plenty extra.
Aladdin was my final destination, and got in on a tight 100NL 1/2 game that they've now changed to a maximum $200 buy-in, though most people still bought in for $50 or $100.
I was surprised to still recognize most of the Aladdin dealers; they must treat them well, because there wasn't much turnover at all.
I sat in the 10seat, which I like for some reason. The game started tight and then when dealers changed and Filippo sat down, something clicked and we had people going all-in and calling all-ins. Once people busted, they'd leave rather than rebuy.
Pocket Jacks cost me $50 (which is why it's good to buy-in for the max $200) against pocket Aces. In another hand, someone else's pocket Jacks held up against pocket Kings and pocket 10s.
I raised $15 with AKo and someone raised all-in for another $75 or so. He had just raised all-in in a previous hand, so I called, though I paused about three seconds longer than I should have. He had AQ. He gets up as if he's about to leave, but I have a bad feeling like I usually do against underdogs. The flop is KQx. Only when the turn is a K do I relax.
It was a fun, social table, with seats 1, 2, 4, and 5 being Aladdin dealers who either saw a lot of action on our table or just wanted to shoot the breeze with their friends. Hence, they slowplayed each other.
The hand of the night was a hand that never saw the flop.
3seat (who's not a dealer) raises $10. It's folded around to the Russian dealer in the 1seat who pushes all-in.
3seat thinks and thinks, then folds face up: 88.
1seat laughs and shows her bluff of Q

J

.
3seat shakes his head and says with a smile what he was saying to her all night,
"You're bad, you're bad."
I ask Filippo to see the flop, just for kicks. I don't know if it was because our table was half Aladdin dealers or because we were friendly or because Aladdin allows it, but the dealers frequently let us rabbit-hole cards.
Filippo burns and flips over three and looks at 3seat:
"You don't want to see this."
Filippo shows me the cards first, then the others on my side of the table, who let out a gasp: 8-8

-10

.
3seat groans, and I say let's see the turn.
Filippo flips over the 9

and we all scream as if we just hit a bad beat jackpot that Aladdin doesn't have and even if they did have we wouldn't have qualified for.
But Aladdin does have high hand jackpots (that reach $599, the maximum before having to fill out a W2-G), which for quad 8s and a straight flush to the Q, had been hit before and were both reset to $50. So if the hand had played out and 3seat had called 1seat's raise and even with the $50 he would've gotten with the high hand of quad 8s, he still would've lost money.
Had that hand played out, it would've been the first time I'd seen a bad beat jackpot-worthy hand.
I wonder how close we all have been to one of these bad beat jackpots that end up being folded preflop. Next time you're thinking about folding a jackpot hand, think twice.
Especially if you're at my table.
—

—
Friday, May 13, 2005
Frosty slots
Just a quickie post to let you know about Wendy's free Jr. Frosty (
click here for info
) that's good today through Sunday. No coupon and no purchase (and no finger) necessary.
Luxor is packed this weekend and sold out of my preferred Tower rooms, so they put me in the glassback elevator 2 location, which is right around the corner from the pool and garage. I don't even need the elevator! This is better than downtown casinos, and I'll be requesting this location from now on.
Checked in at 9:30 p.m. and the automatic room service which usually comes an hour later arrived at
1:15 a.m.
with the pyramid gift basket (crackers, chocolate, cheese, etc.). On these comped rooms, I've come to expect the gift basket and finger sandwiches + sodas and bottled water. I thought arriving earlier would get me fresh fruit like others had been getting, but they didn't even have the finger sandwiches. The room service guy looked all happy as he handed me my slot host's card (with a big mug of a smiling Sally) and asked where he should put the gift basket. He saw my disappointment as I looked around him to see where the cart o' sandwiches was.
The gift this time was a Cutter & Buck travel bag and travel clock, which goes into the closet. Soon I'll have a literal prize closet that I can delve into anytime I need a last-minute gift.
My first slot round is in a couple hours, so I popped home for a bit. I think I've been in this tourney four or five times now without cashing once, and playing the odds (because there's certainly no skill in slapping a button for an hour), I know it's just a matter of time. Luxor's the only tourney in town that pays you $90 just to play, so at least there's that.
In return and to continue being one of the 250 invited guests, I'm expected to play. They don't care if I win or lose, they just want the same playthrough as I normally give them. And it has to be in slots.
The best slot machine is BJ Blitz, which lets you bet anywhere from $1 to $50. Better yet, blackjack pays 3:2. The only difference from the table game is you can't double-down on any two cards.
Taking a page from online play when working off casino bonuses, last night I did $1500 playthrough ($15 per 1 point) on $1 a hand. This is hell doing manually, but $100 lasted 15x, which is a much better return than any other slots. I won the $100 back in a quick table session, but I expect I'll be back blitzin' tonight.
I'll also play some Luxor crapshoot poker to get in 15 hours for Tuesday's "freeroll" (which is never played, they just hand out the cash). The only thing I dread about Luxor's NL game is the $50 min/max buy-in, but it'll be a good change of pace from the 400NL I've been playing online. And where I was burned for $800 in a day, but that involves bad beat stories, so more on that later.
—

—
Thursday, May 12, 2005
No rest for the weary
Through May 22,
MultiPoker
has a 100 percent reload bonus (up to $100), but before you get too excited, it requires 20x raked hands to clear. Use bonus code
MAY05RELOAD
.
A better reload bonus is
Paradise
which is giving a 20 percent bonus (up to $100) using the code
MayDay
. Only valid May 14-15. Because they stack and don't expire, what I do with Paradise's bonuses is deposit, wait a few days, then withdraw. Then I go back when there aren't any current bonuses to work off.
§
Does anyone sleep in Vegas?
What a long weekend. I don't even know where to begin, and in a few minutes I'm off to Luxor for
another
long weekend, this time a slot tourney. After checking out on Sunday, I'll head straight to Sunset Station for my first craps tournament. I've been playing a lot of craps lately but don't know the first thing about a craps
tournament
; maybe I should just put everything on the Don't Come, grab my free food and Red Bull (I'm now drinking sugar-free) and get outta there.
Sunday is also May 15, which is the 100th birthday of Las Vegas. Various Centennial celebrations are going on; I think I'll try to get in on the giant birthday cake they're making to go in the
Guinness Book of World Records
.
Before I leave, I'd like to give a big eff-you to the Kentucky Derby. With these 50-1 longshots winning, you wonder if you should just pick numbers at random. Or heck, just pick the longshots (I don't doubt for a bit that there could be collusion in the Derby).
Which is what my friend's friend on the East Coast did and kept calling to gloat. She picked a trifecta of three numbers to place (regardless of order) and didn't pay attention to favorites or owners or names. She plunked down her $6 and a few minutes later, walked away with $49,000 after taxes.
My DC friends and I all went to MGM and saw $23 million in bets on the scoreboard. The Derby's gotta be more than that, so the $23M must just be bets at MGM.
I put a big bet down on five horses -- Noble Causeway, Don't Get Mad, Afleet Alex, High Fly, and Bellamy Road. Three needed to place in the top three, and these were all safe bets. If they came in, it would mean a big payday and I could rest for a few years.
Of the seven in our group, none of us picked the winner, Giacomo (Laura San Giacomo was probably the only one cheering).
Only one of us won.
"How much you win? Two?""Oh no,"
he said,
"more than that.""Three?"
He just nodded with a smug look on his face as he flipped through his tickets.
Turned out he won three-fiddy... as in, $3.50. Hardly worth standing in line to cash in.
While he was in line, we left to play craps.
More in a couple days...
—

—
Thursday, May 05, 2005
Wynn some, lose some, Wynn some
After accidentally eating a pint of Dreamery strawberry cheesecake ice cream, I sat down to the PokerNow $5000 freeroll, ready to play good poker. For some reason the three-hour time difference in any of these multi-tourneys throws me, and I'm either never on time or miss them completely. Time was I'd be in four per night; now, I'm lucky to squeeze in one a week, if that. Probably because the majority of multis that crop up begin before dinnertime.

As expected in any freeroll, not many people showed. At my table, there were only four present. This takes on a different strategy, as most hands are stealing hands. I built up to T1500, but the next highest was at T2300. All the ghost players were in the T900 range.

My NETeller being empty, I attempted to request an email to re-verify their two small deposits so I could transfer via checking account, but I got an error, perhaps because the re-verification process expires after two years. IGM-Pay emailed that I'll need to send a copy of a voided check. I'm just about to scan a check, when...

I bust out. I have KQs, raise T125 preflop, and two people call. The flop is Kxx. Small blind overbets to 3/4 my stack and I put him on a steal by raising all-in. He calls and shows KJo and I don't feel good about this because, yep, there on the turn is his Jack and I'm out.

This was too big a bet to call and I should've folded. It wasn't worth a call just to see I read him correctly.

I curse loudly at him (never in chat, just at the monitor and his stupid likeness of a buxom blonde when I don't doubt for a fact that he isn't female) then go away for a couple hours. When I return, I see my lucky opponent wasn't lucky enough to cash: he busted at 62 and top 50 made the money.

And made my day. I get such enjoyment out of seeing people get their deserved just desserts.

Speaking of, when you're done bonus whoring PokerNow, don't forget that you can also use IGMPAY as a bonus code for a 10 percent (up to $100) reload bonus using IGM-Pay as a payment method.

That's what I'll be doing next week, and I'll be playing 25NL or 1/2 6max to work off the raked hands. Any raked hand counts, even if it's a few cents. My goal is to get PokerNow to not just lose the bonus on me but make barely any rake off me.

Such vindictiveness. I need to work off this aggression.



§


Filled up one of my stomachs with a delicious, juicy steak that was sorely absent from my CA trip. It was very welcome, and I savored every bite.

Then hopped in the car and headed to the new Wynn casino to play some pokah!

Looks like it's officially called Wynn Las Vegas, as if Wynn is keen on adding other casinos to his trademarked name. What's up with these mogul's prophetic names? Wynn, Trump, Moneymaker. Why did I have to be named grubby?

Took the back way from Koval to Sands Ave., thinking there might be a side entrance. There is, but it's only valet. Had to exit to the Strip and then turn right (the second right, which I can see people missing every time) to get to self-parking (for future visits, it's probably better to go from 15 to Sahara and then south on the Strip).

A guy with a Secret Service-like earpiece said that even though the lower level stated it was full, there were still spaces. Electronic signs are posted at each parking level with a number telling you how many spaces remain. It'd be great to think it's technologically advanced enough to check the weight of each space and determine that way, but it probably just acts as a ticker for cars coming and going. I wonder how they account for the executive reserved spaces (a whole block of them are near the elevators) and handicapped spaces.

I grab a space on 1D and take the elevator to the second-floor entrance (on the way back, I took the stairs, which were faster).

The doors open to a Ferrari/Maserati showroom and, uh, gift shop housed in the casino. The poker room is directly across, which means poker access from the garage is extremely easy. A line formed to get into the showroom. Seems they only allow a certain number of people in at a time to ooh and ahh at the Batwinged vehicles. I pressed my nose against the glass, which many people must do because there were constant employees wiping down glass windows and doorknobs.

I'm hard-pressed to say the casino surpassed the huge build-up and anticipation I'd had for a $2.7 billion world premiere (vs. grand opening) and the first new Vegas casino since the new Aladdin five years ago. Sure, it's bright and elegant and colorful with lots of intense red and pastels, but really, how different can it be with all the same slots taking up the majority of space? I suspect much more of it would be unearthed if I stayed there (pictures of the rooms look great and so does the golf course), but for the moment I was in gambling uniform only.

Little things here and there reminded me of other Wynn-designed casinos like the atrium of orchids and big giant balls of flowers from Bellagio/Mirage and the directional signs from Bellagio where even the font looked the same. Overall, it felt like a cross between Bellagio and the Borgata.

I'd hoped to see water running throughout the casino in little streams (perhaps with a little boat containing your drink order), but was disappointed. There was what looked like a wall of water outside, where you can sit on the patio and watch their regular fusions of filmic scenes. The casino floor seemed smaller than I thought, and I didn't get the exercise I expected by looping around a couple times. Outside is also smaller. There the waterfall and lots of vegetation contributing to the eventual humidity and allergies I'd thought I'd escaped DC swampland for. Wynn must have saved the bulk of the 217 acres for his hotel guests on the other side.

Pedestrian bridges are under construction that will cross the Strip to the Fashion Show Mall (that recently finished their own $1 billion expansion, much of it in that 8 million pound steel contraption they call The Cloud that hovers over the mall providing protection from thunderstorms). Another walkway will cross Sands Ave. to The Venetian. A little north is the New Frontier, so after you absorb the sophistication of Picasso and Wynn you can take in some bikini bullriding.

The big Wynn electronic sign outside advertises golf, Le Reve (which looks spectacular), and restaurants, but I couldn't help being drawn to a dead pixel right in the center. Stevie must be fuming, but what can you do? Take the whole thing back and exchange it for another one?

WLV has a circular feel to it with many round curves. Even escalators that take you up and down at an angle. There's a connection to the outside and an airiness to it, as if someone opened curtains to floor-to-ceiling windows welcoming the sunrise. Probably the only casino where you can tell what time it is by the sun.

Tons of restaurants. When my DC friends arrive tonight, I'll recommend we go to one of them. We usually reserve Saturday night for a fine dining experience, and Wynn is all about the fine dining. Average cost of sandwiches at the deli is $10.

All the slot machines were a couple months' old. Saw hardly any new ones except for the $10 million penny slots (300 pennies per pull to qualify). They did have regular penny slots (unlike Venetian, which start at a nickel), and I parked myself at my favorite Millioniser game Wild Africa away from the table games. In general when hunting for a machine, pick the ones away from the tables: those are usually tighter because the noise disturbs the table players. A nice touch -- footrests beneath each slot machine. I usually put my feet up next to the machine, but I didn't have to because I could slide them dogs right underneath.

The player's cards are red and print your first name and the first initial of your last name. This is the first time I'd seen this, and now I wonder why all other casinos print your full last names. If you're a hotel guest, your room key doubles as your player's card. Quite a few times I've mixed the two up, and it's nice to see this option.

Each slot machine is tied into something called Bonus Bingo. At random times while you play and have your card inserted, you'll be eligible for the bingo game. Your bingo card displays on the little monitor and balls are called out and marked. "Played" maybe half a dozen Bonus Bingos but neither I nor my slot neighbors won anything off it.

Hit Millioniser twice for mini ($9) and minor ($34) jackpots and cashed out down $80. Actually, cashed out down $100, but I hopped to a snowball game and hit for $20.

Put in an hour of play, mostly to get logged into Wynn's system to show I exist and perhaps start getting offers (though I heard it's more difficult to get comps here than anywhere else with a minimum $90,000 playthrough per day for full room, food, and beverage).

Went to blackjack and recovered what I lost in slots. They had tables as low as $10, and one of the private tables didn't have a limit. Saw a guy betting $5000 to $10,000 per hand in two spots.

I stuck with the $10 limit. Tables games are the usual assortment with six-deck shoes and the dreaded automatic shuffler blackjack, which I avoid like liver because it's the same as playing online.

Cards and chips are handsome and simple with the W logo (if someone like Kerkorian takes over again, he'll have to remove Wynn's prominent signature that adorns practically everything). When cashing out, the cashier places the chips on a scanner that tells them instantly the dollar amount, thanks to the RFID microchips embedded.

Dealers wear a dressy black. Women wear gold necklaces spelling out their name; men wear gold pins spelling theirs. Cocktail waitresses are Borgata-type gorgeous and also look as if they're headed to a nightclub -- black short dress with slit and boob implant accessories.

Restrooms are roomy and contain a little lamp in each stall. Sinks are unique with individual faucets and one long trough-like basin. All doors seemed to be overly heavy, from the front entrance to the bathroom stalls.

I had zero cell reception throughout the casino. Not even one bar on the phone. I don't usually have a problem with reception, except for The Orleans and my apartment, and it may be isolated to my provider (Cingular).

My card having enough play, it was time for poker.

It recalls Borgata with a plasma screen displaying the waiting list, showing available games and names of players in line. The software looked like the same one in use at Borgata. Plasma screens are everywhere, though some are obscured by hanging lamps that are in front of them.

Tables are inexcusably shoved too close together. Not only are you crammed 10 to a table (nice having roomy 9-handed tables at the LA casinos), but you have to scoot in each time someone wants to walk by. Cocktail waitresses can barely maneuver between tables.

Automatic shufflers are installed at each table, and you clock-in and clock-out at the front to get $1 per hour and rated (play six hours per day and get the poker rate of $129 weekday and $199 weekend). 'Course, no one tells you any of this and you're just expected to know or ask when you see other people do it.

I sat at a loose 4/8, next to a drunk guy from Orange County who seemed to get drunker the more cappuccinos he drank. He was the sloppy, loud kind of drunk vs. the sloppy, loud, funny kind of drunk.

Worse, he still played well. If I'm playing a drunk, I'd prefer a drunk who raises and reraises every hand.

Played next to him for a couple hours before finally leaving. Won one pot early, then bled away to nothing. Folded most hands and never got past the flop on the others. At least no bad beats when you're getting dealt bad cards.

More annoying was being sardined into the table, not having room to stretch and being forced to breathe people's bad breath. And the drunk guy became increasingly loud, with none of the dealers or floorpeople doing anything about it despite being asked to.

I would visit Wynn again, but I wouldn't visit the poker room.

I left in protest without bothering to clock out, and sat at a blackjack table with a friendly dealer who really rooted for the player. This bit her in the ass because a player at the table, who had a jaw-droppingly hot girlfriend with hands all over him that I was getting turned on by proxy, kept asking, "how much is that," because he couldn't seem to add two cards together.

Suffered through other people's bad play, but the cards were good and I made up what I lost in poker.

Headed home with $80 taken from Stevie's pockets. I've lost money at every casino; with Wynn, I can say I'm a lifetime wynner. Maybe I shouldn't go back after all.


—

—
Tuesday, May 03, 2005
Buying Charlize for $400
Bet365
has $10,000 freerolls on May 7, 10, 12, 14, 17, 20, 22, 25, 28, and 31. All pay out to the top 50. Absolutely no requirements to qualify. Registration begins six hours before each tourney.
In addition to that, they have regular $5000 weekly freerolls every Saturday.
Well worth it to sign up just to play these -- no deposit necessary. Though if you deposit at least $50, there's a $50 bonus. And if you play 250 raked hands, you'll be qualified for their monthly $30,000 freeroll.
§
It's good to be back home. Even better to arrive home and find my car waiting in the casino parking lot. I'd parked there to take advantage of the casino's free shuttle to the airport, then thought perhaps a car with out-of-state license plates in the same place for 11 days might arouse suspicion, what with the bike security I've seen bicycling around the lot.
Next time, I'll valet the car so I won't worry.
It's little "perks" like these that I savor about a place like Vegas. Just the concept of a cheap all-you-can-eat buffet where the food is actually good and prepared in front of you -- I won't lie and say that wasn't a reason for moving here.
My final couple days in LA saw me at the premiere of
A Naked Girl on the Appian Way
by Richard Greenberg, another of my favorite playwrights. The title is misleading enough that South Coast Repertory (which commissioned) felt the need to state that the play contained no nudity. More than that, the Naked Girl is only mentioned once and where the play could've taken advantage of that moment and expanded on it, it's just dropped for some heady intellectual banter (e.g., Frasier Crane arguing with his grown kids). It's a funny romp but nowhere near the poignancy of Greenberg's other plays.
SCR is in Costa Mesa, which next time I'll explore more. I'm sure it, along with the rest of Southern California, is expensive, but it has that suburban feel that I like.
I do expect to eventually move to LA, and if possible it will be an area where I won't go into wholesale homicide sitting in freeway traffic. I snagged an
LA Weekly
(which I'm going to have to subscribe to, it's such a terrific weekly) and the feature story this week spoke all about apartments in LA and how people are migrating to downtown. I just may move sooner than later if I crash and burn gambling.
Which, after this weekend (the annual Vegas trip of my DC guy friends) and next (Luxor's slot tourney), the gambling will slow down to a crawl. I play online for the match bonuses which are more lucrative and frequent than poker bonuses, but even those have dropped to a $250 match where a couple months ago they were in the $300-750 range. Wage requirements have also increased to 20x playthrough vs. the 10x playthrough previously, and my monthly playthrough is still the same as it was. If they're reducing the reason I continue to play, it's a good a time as any to get out or at least decrease significantly.
One of the online casinos sent me an intriguing gift -- they said to email them with a gift of my creation, whether plane tickets, dinner plans, a sporting event... anything I could think of, as long as it was under $400. I first emailed a request of dinner with Charlize Theron. Either she was unavailable (coincidentally, grubette heard Charlize paged on the standby list at LAX Sunday night) or they just didn't respond, so I followed up with a VCR/DVD Recorder combo. It was more than $400, so I requested a $400 Amazon gift certificate to put toward that.
The VCR/DVD Recorder combo was really more of a MacGuffin because I figured $400 at Amazon would at least buy Christmas gifts. The only thing I really needed was a couch, but I'd just purchased one (and is being delivered tomorrow!). I looked into top-of-the-line MP3 players, but I'm quite satisfied with my iRiver even though I can't stand the armband. Also checked out Harry & David's fruit-of-the-month club so I could get something healthy every month. In the end, I couldn't decide so went the gift certificate route.
I hadn't played live poker since Commerce and Bicycle on my last trip to LA. After a week of seminars and plays, I returned in full force by visiting Commerce, Hustler, Hollywood Park (a great time with the LA Bloggers), and Hawaiian Gardens.
I was impressed with Hustler, even though the game on a Saturday afternoon was tight at best. The way grubette painted Hustler, I'd expected it to be a hole-in-the-wall place to vomit in the corner, but it was very comfortable and swanky. If they dimmed the lights, I would mistake it for a strip club.
Surprisingly, I had winning sessions at all of the casinos this trip. Hawaiian Gardens was iffy -- I was into the 100NL game for three buy-ins before I persisted and grinded my way up. Poker is patience and timed aggression, and fortunately I'd planned to be at HI-G the whole night so I had plenty of the former.
HI-G also has new poker tables with buttons that say Food, Drink, Table, and Chips. The dealer just presses a button and a service person instantly appears.
There's no end to the giddiness I feel being able to order a full meal and eat on a little room-service tray right at the poker table at these California cardbarns. Vegas could take a lesson from California, but they don't, and that's how you know they don't
really
care about poker in the grand scheme of things. It's more important to have a poker room present to draw a reason to go, then hope the players and their friends and spouses will play slots and other games.
A separate cafeteria-style poker-only room would be popular here, but casinos would make much more replacing those poker tables (and all salaried employees) with slot machines.
With gaming and trends so cyclical, I wouldn't be surprised if once poker's popularity drops, Vegas again begins closing that valuable real estate that the poker tables take up.
—

—