---
who is grubette?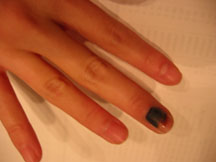 grubette is grubby's poker-playing sister representing the left coast. She solely plays live unless tempted online into a blogger tournament. Years ago she dragged grubby away from awful blackjack and slots to try poker at Bellagio. Months later after losing his way in 7-card-stud, the siblings grub were at The Palms and grubette suggested Hold'em because
"you can play while drunk."
Both haven't looked back since. This is a picture of her finger when she slammed it in a car door after a bad night at the poker room when she was racing to pee. She might have been drunk.
Here are her posts.
12.10.03 grubette in Palm Springs
12.18.03 grubette's lucky chip
02.17.04 grubette's first NL sugar daddy
02.20.04 Countdown
02.27.04 keg or burp.com
03.03.04 grubette does Vegas
03.09.04 Bushy-eyed and bleary-tailed
03.10.04 550 tickets to Paradise (not)
03.19.04 Damage control
03.26.04 grubette's home game
04.09.04 My flush dress
04.23.04 "Young lady, I don't play crap cards"
04.29.04 Just a coupla jokes
04.30.04 Good ol' Joe
05.14.04 Cabo Wabo tour (part I)
06.16.04 Cabo Wabo tour (part II)
07.29.04 Cabo Wabo tour (part III)
§